Sacred Heart Leigh Curriculum Topic Overview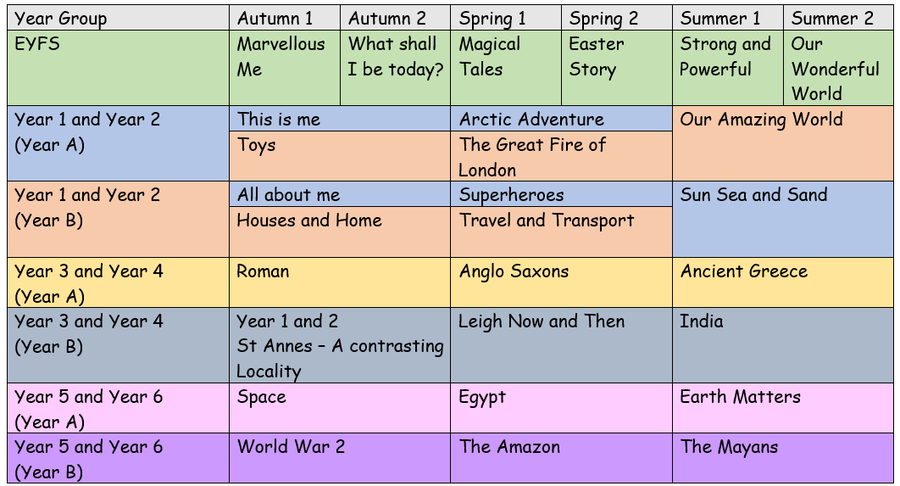 At Sacred Heart, Leigh we have designed our curriculum so that it provides a life-long love of learning for our children. Wherever possible Foundation Subjects are grouped together to create a 'Themed Approach'. We have worked closely with three other primary schools to develop 'Snapshot' a computer programme designed by us and made by Kaleida to provide a way of assessing our curriculum. At any particular time a child's achievements and progress through the curriculum can be seen.
English Impact Statement
Speaking and Listening
Intent:
At Sacred Heart, Leigh, we intend to teach pupils to speak fluently so that they can communicate their ideas and emotions to others. We intend to provide opportunities for exploratory talk, group discussion and language interactions.
Implementation
Teachers aim to underpin all activities with talk as a vital part of the whole learning process. All teachers and other adults in school model speaking clearly. This includes clear diction, reasoned argument, using imaginative and challenging language and use of Standard English. Listening is modelled, as is the appropriate use of non-verbal communication, respecting the views of others.
Learning takes place in a variety of situations and using a range of techniques:
Effective questioning to generate discussion.

Group work.

A learning environment that promotes discussion and provides opportunity for children to express ideas and opinions respectfully.

The use of books/stories.

Planned speaking and listening activities, such as: drama and role play; think, pair and share; structured play and debate.
Reading
Intent:
At Sacred Heart, Leigh school, we intend to encourage children to take pleasure in reading and have strong motivation to read for a variety of purposes. A high-quality education in English will teach our pupils to read fluently and enjoy a range of literature. Reading also enables our pupils both to acquire knowledge and to build on what they already know.
At Sacred Heart we intend to:
Expose our children to a wide variety of books and texts.

Provide a range of reading experiences including individual, paired, shared and guided reading opportunities.

Involve parents in the reading process as much as possible.
Ensure reading is structured and enjoyable.

Use record keeping and regular assessment to monitor progress.

Provide support for children with Special Educational Needs as appropriate.

Supply engaging texts that are age related with appropriate vocabulary.
Develop reading skills so that our children can become confident readers.

Present reading as a life skill and something to be enjoyed.
Implementation
All staff at Sacred Heart are expected to model and communicate their love of reading. We aim to plan and deliver a wide range of reading opportunities, using inspiring texts. We teach reading as part of our daily English lesson. We plan opportunities for shared, guided and individual reading tasks.
Phonics
At Sacred Heart, we use Sounds-Write as a scheme for teaching phonics. Children will have access to a range of phonics opportunities, including; daily discrete phonics teaching; whole class teaching of specific spelling patterns; using phonics in real life contexts and applying phonic knowledge across the Curriculum.
Guided Reading
Guided reading is used throughout the school as a key teaching strategy. We used a range of resources, including: Reading Vipers; Oxford Reading Tree; Tree Tops; Cracking Comprehension and Lighthouse.
Teachers and Teaching Assistants will work with each guided reading group every week. The sessions are well planned and cover a range of reading skills.
Guided reading will be used to:
Teach to the group's learning targets and needs.

Teach reading strategies and provide an opportunity for pupils to practise their reading skills independently.

Provide a context for pupils to share responses and understanding of different text types and genres with others.

Explicitly support pupils in their application of comprehension strategies.

Monitor the comprehension and application of reading skills of individuals. Collect evidence to inform next steps and future sessions.
Individual Reading
At the learning to read stage, teachers and support staff listen to certain children read individually. All children at this stage will also be part of a guided reading group. The school promotes the support of parents in this process by asking them to hear their child read each evening and record this in the home reading record/planner. Texts are chosen from the school's banded reading scheme.
Individual reading will be used to:
Teach reading strategies and behaviours at the instructional level of the child;

Provide a context for the teacher to teach high frequency words, decoding skills, use of picture clues and use of context to support prediction.

Provide an opportunity for the child to practise her/his decoding skills;

Explicitly support the child in her/his application of comprehension strategies;

Monitor the comprehension and application of reading skills of the individual child.
Shared Reading
Teachers take every opportunity to shared read with a class or group. In KS2, each class will also enjoy a class novel, linked to our themed work.
Shared reading will demonstrate how to read a wide variety of genres and text types and show that reading is a pleasurable and informative experience.
Shared reading gives access to challenging texts for pupils and provides a secure environment for learning to read.

It provides a context for explicit teaching about reading and enables teachers to model the skills and strategies used by effective readers.
Independent Reading tasks
Teachers set reading tasks for pupils that require them to read without teacher support. Some of these tasks might require a written response. Independent reading will be used to:
Promote enjoyment of reading.

Develop and consolidate comprehension skills.

Provide a meaningful context for the application of reading skills and knowledge.
Reading At Home:
Reading at home is regarded as an important part of reading development; we expect that all children read at home every day. EYFS, KS1 and LKS2 are provided with a home reading book from levelled boxes. KS2 children are encouraged to choose their own home reading books (free choice books) Parents are encouraged to hear their children read regularly and respond to their child's reading through reading record books/planners.
Free Choice books:
Additional books are provided for pupils who have acquired the expected decoding skills for their age group. The texts are chosen to provide coverage of a wide range of text types, genres and poetry and to be matched to the ages and maturity of the pupils. Children are encouraged to develop their own reading tastes and to be challenged into trying new types of reading materials. Our well stocked libraries and class book corners are engaging and well organised with many topic related texts. Children are able to learn from what they read; facts and information as well as empathy for characters, situations and dilemmas that they encounter in narrative texts. As the children progress, they are encouraged to widen their use of books for reading for information and developing specific skills including skimming, scanning and note taking.
Celebrating Reading:
At Sacred Heart, Leigh, we celebrate reading in a range of ways:
Reading certificates for excellent attitude and progress when reading.

Class Dojos for reading progress and attitude to learning.

Special Reading Days such as World Book Day!
Writing
Intent:
At Sacred Heart we intend to promote writing and look for ways to inspire and motivate pupils so that they can become confident, enthusiastic and competent writers. Children learn to write to communicate meaning to a wide range of audiences. They recognise writing as an important life skill.
Implementation:
Teachers plan inspiring and meaningful writing activities for the children. They establish the purpose and audience for writing and make teaching objectives explicit to pupils so they know why they are studying a particular text type and what the expected outcome will be.
Teachers use shared and guided writing to model the writing process. These provide a context for discussion and demonstration of grammatical features at word level, sentence level and text level. These features are also discussed and practised during KS2 spelling, punctuation and grammar lessons.
Children carefully plan their work and are given time to write independently. Their work is marked by the teacher and then, children are given the opportunity to respond to feedback. Children learn the skill of editing and re-drafting and as a result consolidate improvements in writing.
At Sacred Heart, we have high expectation for the presentation of children's work. Handwriting is taught so that children use the correct letter formation from the very beginning of their time in school. As soon as the children are ready, they are taught to hold a pencil in the correct tripod grip and develop a legible and joined handwriting style. It is expected that all members of staff, class teachers and teaching assistants, model the school handwriting style when writing on the board or in children's books. By the end of Key Stage 2, all children should be displaying an efficient, neat, joined legible handwriting style that is effective in recording their ideas.
Spelling is taught within the English lesson or as part of a skill-based lesson. Teachers provide a wide range of contexts for reinforcing spelling patterns and tricky words throughout the school day. All teachers use phonics materials based on Sound-write as a basis for their planning for the teaching of spelling. The Babcock Spelling Scheme is used to support the teaching of spelling at Sacred Heart.
IMPACT:
Children can:
Read easily, fluently and with good understanding.

Develop the habit of reading widely and often, for both pleasure and information.

Acquire a wide vocabulary, an understanding of grammar and knowledge of linguistic.

Develop conventions for reading, writing and spoken language.

Appreciate our rich and varied literary heritage.

Write clearly, accurately and coherently, adapting their language and style in and for a range of contexts, purposes and audiences.

Use discussion in order to learn; they should be able to elaborate and explain clearly their understanding and ideas.

Confidently and independently, write in a variety of genres for a variety of audiences.
Mathematics
At Sacred Heart, Leigh we believe that Mathematics should be Fun! The children will learn best when challenged to use and apply their understanding of mathematical concepts.
From Early years through to Year 6, the children are taught through the concrete, pictorial and symbolic teaching approach and are given lots of opportunities to develop reasoning and vocabulary through discussion and explanations.
We endeavour to help every child reach their full potential and to become competent Mathematicians and problem solvers.
Children will cover and build upon the following concepts:
We aim that all children will develop the following characteristics and become confident to use Mathematics in life:
An understanding of the number system

Fluent knowledge and recall of number facts

Fluency to perform calculations both mentally and written

A wide of mathematical vocabulary

The resilience and perseverance to solve problems in a wide range of concepts and the satisfaction gained
Science
Intent
At Sacred Heart Catholic Primary School, we intend to deliver a high-quality science education that provides the foundations for understanding the world through the specific disciplines of biology, chemistry and physics.
Over time, science has evolved and has had a significant impact on our lives and will continue to do so. Science is vital to the world's future prosperity, and all pupils should be taught essential aspects of the knowledge, methods, processes and uses of science.
Through high quality teaching and engaging activities, children should be encouraged to develop a sense of excitement and curiosity for their own learning.
Children should also be taught to work scientifically including making predictions, recording and analysing results and drawing conclusions.
Our aim is to provide children with a broad, balanced, engaging and interesting science curriculum that ensures children are given the opportunity to ask scientific questions and work scientifically to find the answers.
Aims
The National Curriculum for science aims to ensure that all pupils:
develop scientific knowledge and conceptual understanding through the specific disciplines of biology, chemistry and physics

develop understanding of the nature, processes and methods of science through different types of science enquiries that help them to answer scientific questions about the world around them

are equipped with the scientific knowledge required to understand the uses and implications of science, today and for the future
Implementation
In ensuring high standards of teaching and learning in science, we implement a curriculum that is progressive throughout the whole school.
Planning for science is a process in which all teachers are involved to ensure that the school gives full coverage of, 'The National Curriculum programmes of study for Science 2014' and, 'Understanding of the World' in the Early Years Foundation Stage.
Where possible, science is linked to class topics. Science is taught as discrete units and lessons where needed to ensure coverage. Due to the themed approached throughout Sacred Heart which is on a two year cycle, KS2 science also follows the same two year cycle. In KS1, science is taught in the specific year groups due to the starting points of some of the children and the need to build on their skills.
Teachers plan to suit their children's interests, current events, their own teaching style, the use of any support staff and the resources available. We have recently invested in the 'Outstanding Science' scheme to support planning and provide additional child friendly resources for children.
Impact
The successful approach at Sacred Heart results in a fun, engaging, high-quality science education, that provides children with the foundations and knowledge for understanding the world.
The impact and measure of our science curriculum is to ensure children not only acquire the appropriate age related knowledge linked to the science curriculum, but also skills which equip them to progress from their starting points, and within their everyday lives.
All children will have:
A wider variety of skills linked to both scientific knowledge and understanding, and scientific enquiry/investigative skills.

A richer vocabulary which will enable to articulate their understanding of taught concepts.
High aspirations, which will see them through to further study, work and a successful adult life
Computing
Members of Staff Responsible: Miss C Lawton / Mrs C Williams
INTENT:
At Leigh Sacred Heart, we aim to create a high-quality computing curriculum which supplies our pupils to use computational thinking and creativity to understand and use technology in their daily lives.
The national curriculum for Design and Technology aims to ensure that all pupils:
Can understand and apply the fundamental principles and concepts of computer science, including abstraction, logic, algorithms and data representation.

Can analyse problems in computational terms, and have repeated practical experience of writing computer programs in order to solve such problems.

Can evaluate and apply information technology, including new or unfamiliar technologies, analytically to solve problems

Are responsible, competent, confident and creative users of information and communication technology
IMPLEMENTATION:
Our curriculum will be implemented to ensure that:
Links are appropriately made with mathematics and English, science and design technology but also provide insights into natural and artificial systems.

Children can think computationally i.e. solve problems, design systems, and understand the power and limits of human and machine intelligence. It is a skill that empowers, and one that all pupils should be aware of and develop competence in.

Our lessons cover key principles of information technology, how systems work, and how to this knowledge can be applied when developing skills in programming.
Our pupils become digitally literate – able to use and express themselves and develop their ideas through, information and communication technology – at a suitable level for the future workplace and as active participants of a digital world.

Our children become confident, competent and discerning users of digital technology which will prepare them for participation in a rapidly changing world.
IMPACT:
The outcomes of the pupils in our school will be pupils who can think computationally and are therefore better able to conceptualise, understand and use computer-based technology, and so are better prepared for today's world and the future.
Geography
Intent
Our aim in Geography is for every child to develop an appreciation and fascination of the world in which they live, both on a local and global level. Furthermore, to grow in understanding and wonder of the people with whom they share their amazing planet with. Our children will explore a range of places, both in Britain, Europe and the wider world to gain a greater knowledge and understanding of the Earth's physical and human processes. We strive to equip our children with the skills they need to confidently make links and connections between the natural world and the human activity that takes place in it.
Implementation
The curriculum that we implement will ensure that all of our pupils will be taught the following:
In Key Stage 1
Pupils will develop knowledge about the world, the United Kingdom and their locality. They will understand basic subject-specific vocabulary relating to human and physical geography and begin to use geographical skills, including first-hand observation, to enhance their locational awareness of Leigh, their home town.
In Key Stage 2
Pupils will extend their knowledge and understanding beyond the local area to include the United Kingdom, Europe (including Russia), North and South America. This will include the location and characteristics of a range of the world's most significant human and physical features. They should develop their use of geographical knowledge, understanding and skills to enhance their locational and place knowledge.
Impact
At the end of their time at Sacred Heart, our pupils will be young geographers who have:
an inquisitive interest in their surroundings and in the variety of human and physical conditions of the earth's surface.

a sense of wonder and awe of the beautiful world around them.

a growing sense of responsibility to care for world in which they live in for themselves and generations to come.

the skills to understand information and interpret it through asking and answering geographical questions.

developed the fieldwork skills to further their knowledge and understanding of the world, especially their immediate locality.

a sense of understanding about how we are interconnected and interdependent with other people and ecosystems around the world.
History
History intent, implication and impact statement.
At Leigh Sacred Heart we are guided by the National Curriculum for History(2014). The National Curriculum for history aims to ensure that all pupils:
know and understand the history of these islands as a coherent, chronological narrative, from the earliest times to the present day: how people's lives have shaped this nation and how Britain has influenced and been influenced by the wider world.

know and understand significant aspects of the history of the wider world: the nature of ancient civilisations; the expansion and dissolution of empires; characteristic features of past non-European societies; achievements and follies of mankind.

gain and deploy a historically grounded understanding of abstract terms such as 'empire', 'civilisation', 'parliament' and 'peasantry'.

understand historical concepts such as continuity and change, cause and consequence, similarity, difference and significance, and use them to make connections, draw contrasts, analyse trends, frame historically-valid questions and create their own structured accounts, including written narratives and analyses.

understand the methods of historical enquiry, including how evidence is used rigorously to make historical claims, and discern how and why contrasting arguments and interpretations of the past have been constructed.
Intent.
Our intent is that our teaching of History will help pupils develop a coherent knowledge and understanding of Britain's past and that of the wider world. We aim for it to inspire pupils' curiosity about the past and to know more about the past. We aim to enable children to ask perceptive questions, think critically, weigh evidence, sift arguments, and develop perspective and judgement. Through the teaching of History we endeavour to teach children to understand the complexity of people's lives, the process of change, the diversity of societies and relationships between different groups, as well as their own identity and the challenges of their time.
Implementation.
To meet these objectives across the school we have a themed approach based on different topics that relate to the children.
---------------
History lessons focus on developing historical skills and children working as young historians. We intend for our children to have real life experiences and learn about history in an enquiry based way. Links to other subject areas are also explored. The planning of learning always begins with the skills and knowledge that needs to be taught and enrichment opportunities and opportunities to apply learning are carefully mapped.
Impact.
Children will know more, remember more and understand more about History.
Children will understand and use the key skills of chronological understanding, knowledge and understanding of events in the past, Historical interpretation, Historical enquiry and organisation and communication.
All of the children will make progress towards age related expectations in History.
Modern Foreign Languages
Intent, Implementation and Impact Statement
Context:
The KS2 classes have been language learners from 2006. The school is a one and a half form entry school with approximately 300 pupils. The first language of some of the pupils in the school is English. There are also a large number of pupils who have other languages as their first language, these are Polish, Punjabi, Arabic, Urdu, French, Romany, Curdish, German, Persian, Hungarian and Italian
Vision:
At school we believe that the learning of a language provides a valuable educational, social and cultural experience for our pupils. It helps them to develop communication skills, including key skills in speaking, listening, reading and writing. The children's knowledge of how language works will be developed and extended. Lessons will enable pupils to make substantial progress in French and gain a recognised OCR Asset Languages Qualification in Year 6. The linguistic skills gained will assist and lay foundations for further language learning. It will provide pupils with the confidence and independence to explore and be able to attempt manipulation of the structure of language. Learning another language gives children a new and broader perspective on the world, encouraging them to understand their own cultures and those of others.
Intent and Implementation
Since September 2014, the new National Curriculum has made learning a language compulsory in Key Stage 2. With Primary Languages Network's team's history, knowledge, and background, we were impressed with their standards, curriculum, teaching style and rapid progress. The majority of schools only offer the language that teachers feel most able to cope with, however, with Primary Languages Network, our teachers are able to learn on-the-go, teach interactively, attend CPD events, have the opportunity to practice conversationally and use of DVDs and online resources during class. They also provide the opportunity for staff upskilling and contracting their specialist language teachers to come into school. Primary Languages Network has given our teachers and pupils confidence to speak another language and our teachers to support the children's language-learning at home.
Impact
DfE Attainment targets will be achieved by our children by the end of Year 6. These are:
Listen attentively to spoken language and show understanding by joining in and responding

Explore the patterns and sounds of language through songs and rhymes and link the spelling, sound and meaning of words

Engage in conversations; ask and answer questions; express opinions and respond to those of others; seek clarification and help*

Speak in sentences, using familiar vocabulary, phrases and basic language structures

Develop accurate pronunciation and intonation so that others understand when they are reading aloud or using familiar words and phrases*

Present ideas and information orally to a range of audiences*

Read carefully and show understanding of words, phrases and simple writing

Appreciate stories, songs, poems and rhymes in the language

Broaden their vocabulary and develop their ability to understand new words that are introduced into familiar written material, including through using a dictionary
10.Write phrases from memory, and adapt these to create new sentences, to express ideas clearly
11.Describe people, places, things and actions orally* and in writing
12.Understand basic grammar appropriate to the language being studied, including (where relevant): feminine, masculine and neuter forms and the conjugation of high-frequency verbs; key features and patterns of the language; how to apply these, for instance, to build sentences; and how these differ from or are similar to English.
Music
The music curriculum interweaves through our whole curriculum particularly in our Themed Approach.
Music is central to the life of Sacred Heart, Leigh the children know many songs and hymns used in worship.
The school choir is well known within the community, performing at various events throughout the year.
Each Tuesday Year 4 children take part in the Wider Horizons Music Project, they have opportunity to learn a string instrument. Each term the children enjoy performing their work to the school and parents.
We have a team of specialist music teachers from Wigan Council who provide peripatetic lessons in piano, guitar, strings and voice.
ART and DESIGN
Member of staff responsible: Mrs. Ann Littlewood
Review date : March 2022
INTENT
Art, craft and design embody some of the highest forms of human creativity. A high quality art and design education should engage, inspire and challenge pupils, equipping them with the knowledge and skills to experiment, invent and create their own works of art, craft and design. As pupils progress they should be able to think critically and develop a more rigorous understanding of art and design. They should also know how art and design both reflect and shape our history, contribute to the culture, creativity and wealth of our nation.
Aims :
The curriculum aims will ensure that all our pupils:
Produce creative work, exploring their ideas and recording their experiences.

Become confident in drawing, painting and sculpture and other art craft and design techniques.

Evaluate and analyse creative works using the language of art, craft and design.

Know about great artists, craft makers and designers, and understand the historical and cultural development of their art forms.
Implementation
Our aim is to improve the children's skills, knowledge and understanding. Art is largely taught through each thematic curriculum topic.
Sometimes the children will be taught through whole class teaching. At other times the children will engage in a research, design and make activity.
They will have the opportunity to use a variety of materials. They will use ICT during art lessons where it enhances their learning. The children will develop their speaking and listening skills through discussions and evaluations.
Assessment:
This will include:

Teacher observation of pupils

Teacher – pupil discussion

Pupils' drawings, notes, models, comments and written work.

Artefacts made by the pupils.
Impact
The children will be able to:
Key Stage 1

Key Stage 2

· Use a range of materials to design and make products.

· To use drawing, painting and sculpture to develop and share their ideas, experiences and imagination.

·To develop a wide range of art and design techniques in using colour, pattern, texture, line, shape, form and space.

·Talk about the work of a range of artists, craft makers and designers, describing the differences and similarities between the different practices and disciplines, and making links to their own work.

· To create sketch books to record their observations and use them to review and revisit ideas.

·To improve the mastery of art and design techniques, including drawing, painting and sculpture with a range of materials (for example, pencil, charcoal and paint.)

· Now about great designers, architects and designers in history.
D&T Curriculum Information
At Sacred Heart, Leigh design and technology is taught through themed lessons and follows the 'Projects on a Page' schemes of work. These are national schemes of work for design and technology at Key Stages 1 and 2.
During lessons, pupils are taught to focus on the six essentials of good D&T practice. These are put in place to ensure children's learning is genuinely design and technology in nature. Lessons are consistent with the new National Curriculum and key skills are applied when children are designing and making products.
Six essential skills:
User

– children are taught have a clear idea of who they are designing and making products for, considering their needs, wants, interests and preferences. The user could be themselves, an imaginary character, another person, client, consumer or specific target audience.

Purpose

– children are encouraged to investigate what the products they design and make are for. Each product should perform a clearly identified task that can be evaluated in use.

Functionality

– children are encouraged to design and make products that function in some way to be successful. Products often combine aesthetic qualities with functional characteristics. Children are reminded that in D&T, it is insufficient to design and make products that are purely aesthetic.

Design Decisions

– when designing and making, children are provided with opportunities to make informed decisions such as selecting materials, components and techniques and deciding what form the products will take, how they will work, what task they will perform and who they are for.

Innovation

– when designing and making, children are required to be original with their thinking. Projects that encourage innovation lead to a range of design ideas and products being developed.

Authenticity

– children are taught to design and make products that are believable, real and meaningful to themselves i.e. not replicas or reproductions or models that do not provide opportunities for children to make design decisions with clear users and purpose in mind.
Food Technology
Designing and making, and cooking and nutrition are linked in children's learning. These means that as part of food technology lessons pupils apply the principles of nutrition and healthy eating, learn how to prepare dishes at KS1 and prepare and cook dishes at KS2. Food technology projects in KS1 require pupils to prepare dishes with fresh fruit and vegetables without using a heat source. In KS2 projects, children prepare and cook dishes, using a wider range of ingredients, using a heat source where appropriate.
Physical Education

At Sacred Heart, Leigh we are fortunate to have specialist PE coaches and a PE coordinator who has studied Physical and Adventure Education at degree level. This expertise greatly enhances our provision in the PE curriculum as well as continuing professional development of teaching staff. All classes partake in at least 2 hours per week of physical activity during curriculum time.

The aims of our PE curriculum are for our children:
- to be able to swim at least 25 metres before the end of Year 6 and how to be safe in and around water
- to practise skills in a wide range of activities, alone, in small group and in team situations
- to develop healthy, resilient and enthusiastic children for physical activities
- to apply skills learnt to attain higher levels of performance
- to learn about the benefits of and maintain a healthy lifestyle by exercising regularly, being able to remain physically active for a sustained period of time and being aware of risks to health (dangers of drugs, alcohol and lack of exercise)
- to access and experience as many different facets of physical activity as possible in their school life
- to become well-rounded, creative and responsible young people
- to develop techniques and strategies to improve their own and others' performance
- to be encouraged in becoming excellent young leaders, organising and officiating and evaluating what needs to be done to improve
- to be good role models, be able to work independently, motivating and showing a positive sporting attitude to others
- to further increase their level of performance in extra curricular activities and to encourage participation in competitive sport in the local area

Breakfast, Lunchtime and After School Clubs
Throughout the year, Sacred Heart provides a number of activities that all children are welcome to attend. Many lunchtime clubs are used in preparation to play in inter-school competitions in the borough.
Breakfast clubs for Football and Dance have been introduced in 2017.
Teaching staff and Premier Sport coaches organise and supervise these lunchtime and after school clubs:

Football KS1
Fencing KS1
Archery KS1
Tag Rugby League KS1
Dodgeball KS1
Boccia KS1
Athletics KS1
Orienteering KS1
Football KS2
Rugby League KS2
Tag Rugby League KS2
Pop Lacrosse KS2
Netball KS2
Basketball KS2
Hockey Quiksticks KS2
Dodgeball KS2
Cross Country KS2
Rounders KS2
Orienteering KS2
Cricket KS2
Athletics KS2
Volleyball KS2
Tri-Golf KS2
Adventure Service Challenge KS2
Just Join In (Inclusion) Days KS1
Just Join In (Inclusion) Days KS2

Play Leaders
Y6 children apply to be play leaders organising and providing activities for KS1 during lunchtimes Monday to Thursday. This helps Y6 play leaders to become more independent and responsible. On Friday lunchtimes, KS1 children are encouraged to play games independently using the games play leaders have introduced.

The Golden Mile
Sacred Heart has joined the national initiative to promote an increased level of physical activity in children by creating a route of one mile in the school grounds. Classes will walk, jog or run the mile initially throughout the week with the target of achieving a mile a day individually.